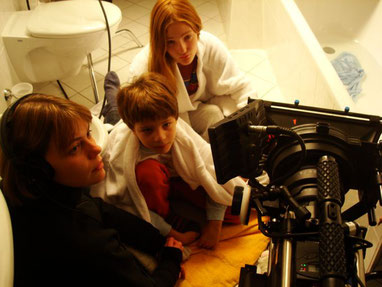 Sophie Narr was born in 1980 and grew up in Berlin. Today she is living in Berlin and Florence (Italy). After working as a professionally trained film and video editor, she studied screenwriting at the German Academy of Film & Television (HFF) - Konrad Wolf in Potsdam, Babelsberg. In 2009 her documentary Der Die Das was released in German cinemas and later broadcasted on national television. Since 2007 her artistic work has been awarded with international awards and grants.
Besides working as an author and director Sophie Narr is teaching visual arts since 2010 with the focus on film and photography projects. The self-developed arts education projects at all times foreground the intense examination of our social environment as well as the self-sense of each participant. Through the medium film, respectively photography the students learn not only to express their points of view artistically and technical, moreover they find access to the counterpart's opinions and attitude towards life. The projects are designed for children, teenagers and adults with or without prior knowledge.
2015 - 2016 RESEARCH QUALIFICATION: Asth Paidea - Aesthetical Education for Children of pre-school age - Alice Salomon Hochschule Berlin
2013 - 2014 QUALIFICATION: PROJECT WORK IN ARTS EDUCATION
International professional qualifcation - C&Q Beratung & Bildung, Berlin
2009 - 2011 MASTER'S STUDENT (Meisterschüler) SCREENWRITING

Film and Television Academy (HFF) - Konrad Wolf, Potsdam
2003 - 2008 SCREENWRITING / DRAMATURGY studies

Film and Television Academy (HFF) - Konrad Wolf, Potsdam

2002 GUEST STUTENT: SCREENWRITING
Australian Film, Television and Radio School, Sydney

1999 - 2002 PROFESSIONAL TRAINING FILM AND VIDEO EDITOR

Arbeitskreis Medienpädagogik e.V. Berlin 
since 2011 KUNSTWELTEN - a project of the Academy of Arts, Berlin
Academic & Hands-on Arts Education for Secondary School Students - nationwide

sinde 2012 TEENS SPECIAL - C/O Berlin Foundation
Academic & Hands-on Art Projects for Adolescents with socially deprived Backgrounds

2014 WINTERREISE - aufBruch e.V.
Practice-orianted documentary film course for juvenile prison inmates

since 2011 JUNIOR & TEENS - C/O Berlin Foundation
Academic & Hands-on Art Projects for Children and Adolescents
2010 HFF - KONRAD WOLF
Meisterschüler - Lecturer, Dokumentary Film Seminar of Prof. Jens Becker
2014  Project fund documentary project - Weites Land
F.C. Flick Foundation
2013 Grant and Residency at the artist house Lukas
funded by the land Mecklenburg - West Pomerania

2010 Cast&Cut Residency
funded by normedia Fonds GmbH & Foundation of the cultural region Hannover 
2009 Residency / Grant Junge Akademie
Akademie der Künste Berlin, Section: Film and Media Arts

2009 Subsidy Award Rhineland-Palatinate
For the artistic work on the film The Amount Of Small Things
2008 Newcomer Award Hans W. Geißendörfer
for Screenplay and Directing - Film: In The Shade
2008 Hans W. Geißendörfer Nachwuchspreis
2015 - 2018 Guest Management / Protocol Officer "Culinary Cinema" at the Berlinale - Int. Film Festival Berlin
2006 - 2015 Freelance Author / Film Critic (zitty Berlin, Tagesspiegel a.o.)
2011 Set - Manager: Escape
Short Ficition / D: Rosa Hannah Ziegler / Wendländische Filmkooperative
2009 Jury member 29th Video/Film Days, Koblenz
2005 Festival Team Sehsüchte Int. Student Film Festival Potsdam
Section: Screenplay Award & Pitch!
1992 Jury Member 42nd International Film Festival Berlinale - Section: Children Film Fest
C/O Berlin Foundation - International Forum for Fotography
Kunstwelten / Artsworld - a project of the Academy of Arts, Berlin
F.C. Flick Foundation against xenophobia, racism and intolerance, Potsdam
Artist House Lukas, Ahrenshoop
Demokratisches Ostvorpommern – Association for political Culture e.V.
WinterREISE - a cultural education project by aufbruch, Berlin
AWO Child Support Association, Strausberg
Christine-Brückner-School, Bad Emstal
Heinrich-Heine-High School, Bitterfeld-Wolfen
Regional Lindenschool, Ducherow
Theodor-Heuss-Secondary School, Berlin
Friends of the Moses-Mendelssohn-School, Berlin

---